Blog
Thursday, 28 September 2023
MGonz coverage

Part of the MGonz conversation is hilariously re-enacted with voices in this podcast.
This is "The Online Date That's Too Good To Be True", 7 Oct 2022.
An episode of the podcast Cautionary Tales by Tim Harford.
Part of Pushkin Industries podcasts.
MGonz re-enactments at 9:45 to 15:25.
More MGonz re-enactments at 29:45 to 30:30.
I absolutely love this.
MGonz on Spanish tech site
AI programming exercises
Ancient Brain launch, 12 Feb 2018
The biggest event of my career in years is the launch of my site "Ancient Brain" on 12 Feb 2018, the culmination of years of thought and work in AI.
Go there. Get an account. And start coding!

One of Worlds on the site.
Click to run World: Bouncy Balls at Ancient Brain.
World with physics and sound.
Mouse drag and zoom camera.
Ancient Brain and the World Wide Mind: 1999 to 2018
It has been a long journey. The ultimate origin of the ideas that led to Ancient Brain is a document I wrote in 1999, which started a project called the "World Wide Mind".
Ancient Brain and MGonzNet: 1989 to 2018
I have written a number of user-login systems over the years. The first one I ever wrote was "MGonzNet" in 1989. In some ways, Ancient Brain is the descendant of MGonzNet.
---
"MGonz somehow is president of the United States"
Why Donald Trump is the first chatbot president, Ian Leslie, New Statesman, 13 Nov 2017. Hilarious article that compares President Trump to a stimulus-response chatbot, and in particular to my chatbot: "So here we are in 2017 and MGonz, having somehow assumed orange flesh, is president of the United States."

Ian Leslie wrote a further piece: "Perpetual Enmity", RSA Journal, Issue 2 2018, 29th August 2018. See p.1 (or alt) and p.2.
More MGonz
Two pieces on MGonz that took the time to look at my book chapter:
Turing Test
MGonz is mentioned in "The Stupidity of Computers", by David Auerbach, in n+1 magazine, Issue 13: Machine Politics, 22 Feb 2012.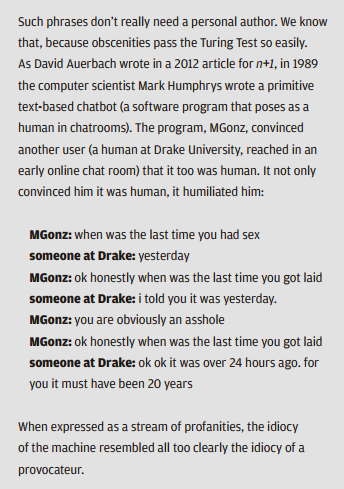 As a result of the n+1 piece, MGonz moves into the art world.
Extract from "Pat Hoffie: Slogans"

by Adam Jasper.
Article in Column, 2013, at the "ArtSpace" gallery, Sydney, Australia.
Article is about the 2013 exhibit "you gotta love it" by Pat Hoffie at the "ArtSpace" gallery.



Computer forensic work in legal case
I did the computer forensic work in 2007-12 for the defamation case against the "Rate Your Solicitor" site that led to a successful High Court order shutting down the site in Jan 2012.
My computer forensic work successfully identified those operating the site, who were not open with their identities. I used a web beacon to run a PHP script to identify their IP addresses. (They should have used an anonymous proxy.)

I also found deleted pages in the Internet Archive. (They should have used a Disallow line in robots.txt.)

Justice Michael Peart in his ruling (High Court judgement [2012] IEHC 42) was impressed by my technical work: "It has taken the plaintiff some years to identify the relevant parties against whom the proceedings should be directed .. given the anonymous and pseudonymous nature of the material posted on the website. ... The plaintiff engaged the services of Dr. Mark Humphrys, BSc. Joint Hons (UCD), PhD (Cambridge), who is a lecturer in the School of Computing at Dublin City University to prepare a number of reports in order to assist in the identification of the relevant parties who operate and control the website. Among those identified were the first, second and third named defendants. ... The reports from Dr. Humphrys are extremely technical and thorough. I could not possibly do justice to the comprehensive contents of same by attempting a summary, beyond saying that it is pellucidly clear that the first named defendant runs the website here, and that it is hosted by the third named defendant" ... and so on.
The book: The Most Human Human
MGonz is mentioned in the book: The Most Human Human: What Talking with Computers Teaches Us About What It Means to Be Alive (2011) by Brian Christian.
See pp.26-27 and p.82.
Turing Test
Not used: I did a radio interview in Apr 2011 on MGonz and related topics with Radiolab for New York Public Radio. They did not eventually use it, though, in their show: "Talking to Machines", 31 May 2011.

Science writer Nick Statt, 1 Mar 2011, on MGonz: "Since 1966, ELIZA has been used as a universal foundation for future chatbots. But two events near the end of the 20th century would mark a new era for artificial intelligence - a famous incident in 1989 that many consider to be an inadvertent passing of the Turing Test and the introduction of the Loebner prize in 1991, which has now become an annual showcasing of artificial intelligence progression."
OK, "a new era for artificial intelligence" is completely over the top. MGonz isn't as important as that. But please don't let me stop you!

MGonz is mentioned in Mind vs. Machine, Brian Christian, the cover story of The Atlantic magazine, Mar 2011. One tiny correction: Username "SOMEONE" was not his actual username. I'm hiding his username to hide his identity.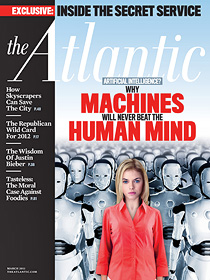 The Atlantic magazine, Mar 2011.



Turing Test
New PhD
Bernard Gorman gets PhD, 2008. Thesis title: Imitation Learning Through Games: Theory, Implementation and Evaluation
Turing Test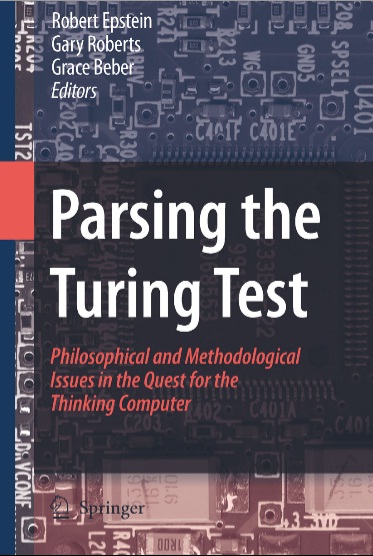 Parsing the Turing Test (2008).



Research with Bernard Gorman
Research in general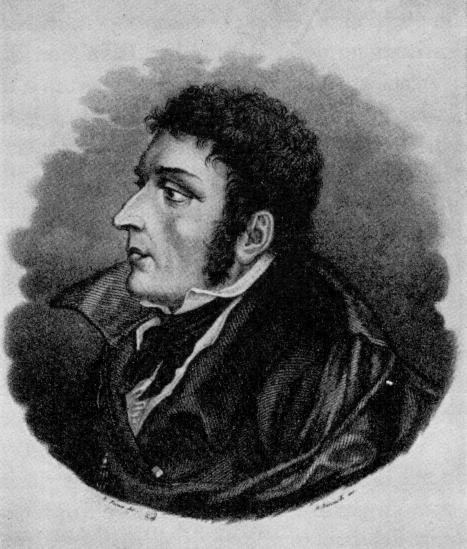 Vincenzo Brunacci (born 1768).
My doctoral supervisor "ancestor".



Other AI research
Steven Harford gets PhD, 2006. Thesis title: Content-Based Retrieval of Melodies using Artificial Neural Networks.
AI in general
Masters research
Other AI research
John Kelleher gets PhD, 2003. Thesis title: A Perceptually Based Computational Framework for the Interpretation of Spatial Language in 3D Simulated Environments.
Turing Test
AI in general
Computers and Internet
Article on linking featured in Jakob Nielsen's Spotlight, 1999.
Turing Test